Prime Minister First to Light Menorah at City Hall
ctvcalgary.ca, Tue Dec. 23 2008

It's a Jewish holiday tradition that goes back 20 years in Calgary - the public lighting of the menorah for Hanukkah.
On Monday night, that tradition
continued in the city, but this time with the help of some special guests - including Prime Minister Stephen Harper.
Sniffer dogs and police canvassed the City Hall foyer on Monday afternoon - an unusual step to prepare for the annual menorah lighting.
Rabbi Menachem Matusof, Chabad Lubavitch Alberta Director, says when the guest of honour is the Prime Minister, special precautions are taken.
"This year, because it's the 20th anniversary, we were honoured by the Prime Minister and the federation to make it more personal, a more home-like event."
Candles on the menorah are lit for each day of Hanukkah. The Prime Minister was the first to light a candle. It was Stephen Harper's first public appearance in Calgary since the election. Harper didn't answer questions from the media, but he did address the crowd.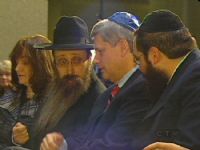 "Though the darkness still reigns in too many places in the world, the light of the menorah burns bright in this country, Canada. Our peaceful, prosperous, pluralist society welcomes people of all faiths."
For Irene Melnyk, and others who make the event an annual tradition, the Prime Minister's visit was a highlight.
"That was like incredible that he is here to celebrate with all of us. It's like wow."
Albina Shuman agrees.
"It just proves to us that we are a priority and that he can understand us."
This year marks the 20th anniversary of the public menorah lighting in Calgary.
Mayor Dave Bronconnier got into the spirit joining rabbis from across Canada who were also on hand to mark the celebration.
And with the help of festive music and a healthy serving of traditional Jewish food, the community came together to wish each other the best for Hanukkah, the Jewish festival of lights.
The first public menorah lighting in Calgary took place in 1988 at Heritage Park.
It was also held at Canada Olympic Park before City Hall became the permanent home for the annual tradition.